A wedding layout today! I think this is probably the fastest I have ever scrapped something after it happened. Just three weeks ago I was in Peoria, Illinois, to witness two good friends of mine get married and I thought it would be the perfect subject for a few challenges. I also had the memorabilia from their ceremony and reception that I didn't want to lose, so scrapping this sooner than later was probably a good idea. :)
For the main aspect of this layout I did the latest
Sketchy Thursday
sketch:
I found this sketch fun to use and added a little more bling and embellishments than I usually do on my pages, but actually enjoyed it! I was very glad to find the perfect color flowers to go along with this layout theme. So, here's my take:
This layout also incorporates bling (both the scrapbook kind as in purple rhinestones and the wedding ring kind - this was from the couple's program, just cut with a Nestability Labels 1) for the challenges over at
Practical Scrappers
and
The Cuttlebug Spot
.
I also decided a wedding layout was the perfect way to incorporate the poem inspiration at
Scrap That Poetry
's latest challenge. The lines "The thought of Love Immortal blends / With fond remembrances of friends;" spoke to me because this was a wedding of two good friends I met while living in Peoria.
If you're wondering why I'm targeting these specific challenge blogs, it's due to their great challenge blog hop going on this week. Be sure to check it out at each of these blogs mentioned, or specifically
here
.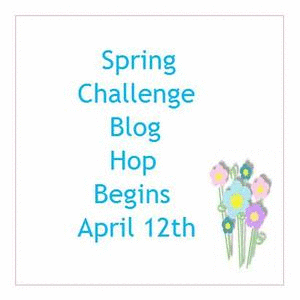 Now I just need to work on a few more challenges for Pile It On and 365 Cards. This blog hop makes you work!
Thanks for stopping by!
DETAILS:
Paper - Solid (Martha Stewart & DCWV), Patterned (Provo Craft - Lilac Basket)
Embellishments - Stamp (Inkadinkadoo), Ink (Colorbox), Border Punch (Martha Stewart - Heart Lace), Flowers (Hero Arts & Prima & Stash), Brads (Recollections), Rhinestones (Studio G), Nestabilities Labels 1 (Spellbinders), Insert (Wedding Program Memorabilia)